Procedures
Dr. Hasell MD, FRCS(C), FACS is a Fellow with the Royal College of Physicians and Surgeons of Canada in Plastic and Reconstructive Surgery, as well as a Fellow of the American College of Surgeons and has membership with several more professional affiliations. Dr. Hasell was also the past Chief of Surgery for the Alberta South Zone. He has been practicing in Lethbridge for over 25 years and covers the entire spectrum of Plastic Surgery: Cosmetic, Reconstruction and Hand Surgery. Dr. Hasell's additional fellowship training in Cosmetic Surgery after completing his Plastic Surgery residency has given him the advanced expertise to provide his patients with the best possible surgery outcomes. Dr. Hasell is an expert at breast augmentation, abdominoplasty, and eyelid surgery.
To clarify the different surgical procedures, it may be useful to understand that Reconstructive Surgery includes the procedures used to repair: traumatic injury, scarring, burns, damage from other surgery, and birth defects. These surgeries are usually covered by a patient's provincial health insurance.
Cosmetic or aesthetic surgery is considered an optional surgical procedure which may facilitate the improvement of appearance, restore youthfulness and increase confidence in body image. Cosmetic procedures are generally not covered by a patient's health insurance. However, for our patients that wish to proceed with cosmetic surgery procedure (after a thorough consultation with Dr. Hasell), our office accepts Visa, Mastercard, Interac, EFT, cash and third party patient financing. Please speak with our front office administrator regarding the payment option that will work best for you.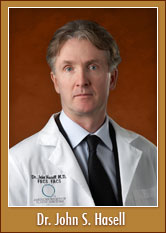 Royal Bank Building, Suite 301, 410 7th Street, S., Lethbridge, AB, 403 328-1300