Lethbridge, Alberta Plastic Surgery
Dr. John Hasell is a Canadian board certified Plastic and Cosmetic surgeon practicing in Lethbridge, Alberta. He serves patients from Alberta, British Columbia, and Saskatchewan including Calgary, Brooks, Medicine Hat and of course, Lethbridge. He offers a range of cosmetic and reconstructive procedures. Patients can be assured that they will benefit from Dr. Hasell's expertise and experience, as well as his caring personality. Dr. Hasell's goals are always for a natural result.
Dr. Hasell has been practicing plastic surgery for more than 25 years. After completing his residency training at the University of Alberta in Edmonton and becoming a Royal College Board certified Plastic Surgeon, Dr Hasell did further fellowship training at the prestigious Cosmetic Surgery Hospital in Toronto to fine tune his skills. Dr. Hasell is also a Fellow of the American College of Surgery.

Experience and options, close to home
Dr. Hasell's practice offers a wide range of available procedures. His cosmetic practice includes procedures such as breast augmentation, breast lifts, abdominoplasty (tummy tucks), liposuction and eyelid surgery. In addition, his practice offers cosmetic injectables such as Botox and Juvederm , professional skin care treatments including ZO Skin Care, Skin Medica as well as Latisse (eyelash growth serum). Dr. Hasell also offers Laser treatments for hair removal and some skin pigmentations.

Take the Next Step
The first step on your journey to reaching your goals for your appearance is a consultation. Dr. Hasell will meet with you in his office for a consultation. Together you and Dr. Hasell can decide the best procedure for your individual situation. To set up an appointment, please call our knowledgeable and personable office staff at 403 328-1300.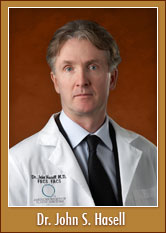 Royal Bank Building, Suite 301, 410 7th Street, S., Lethbridge, AB, 403 328-1300